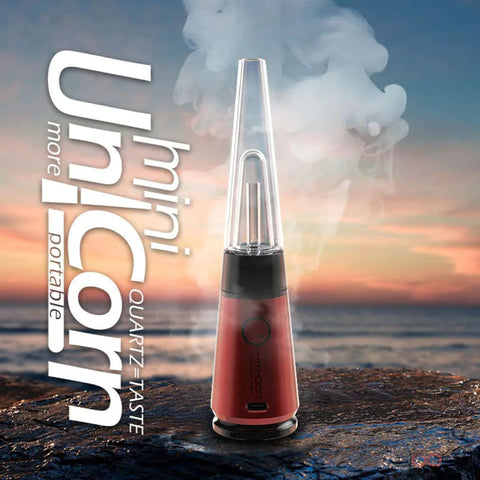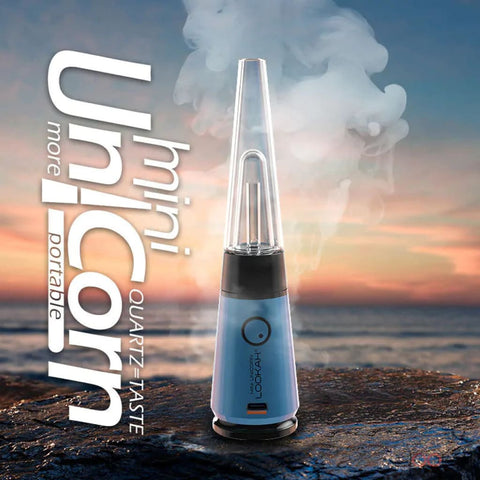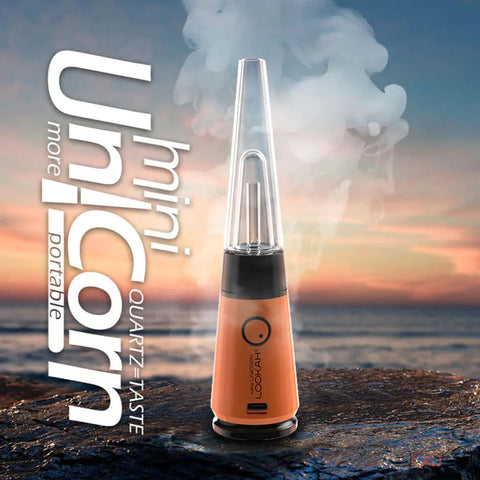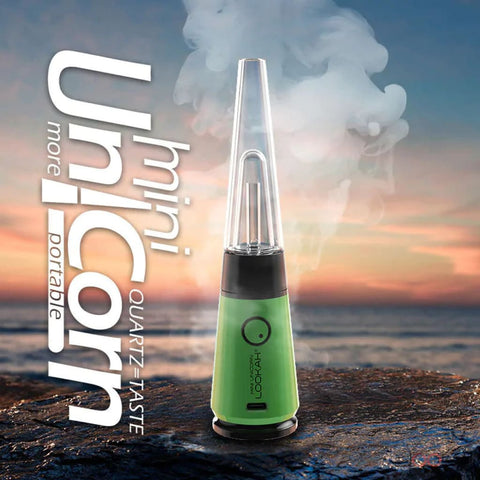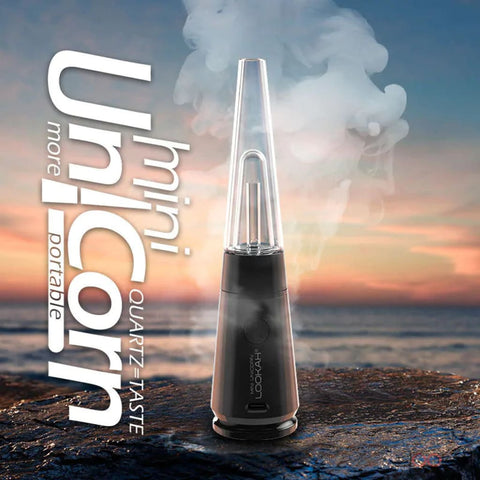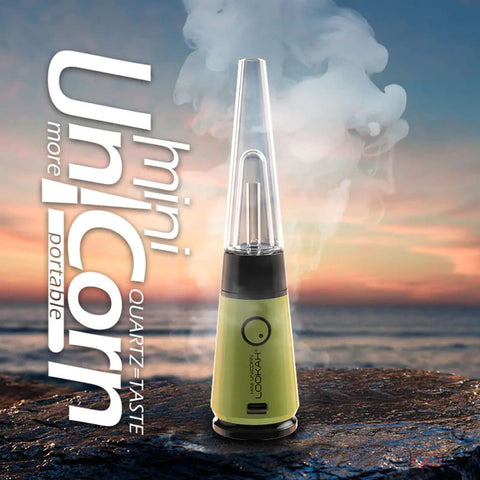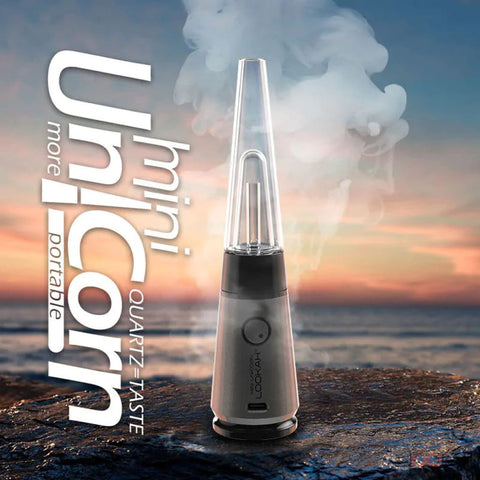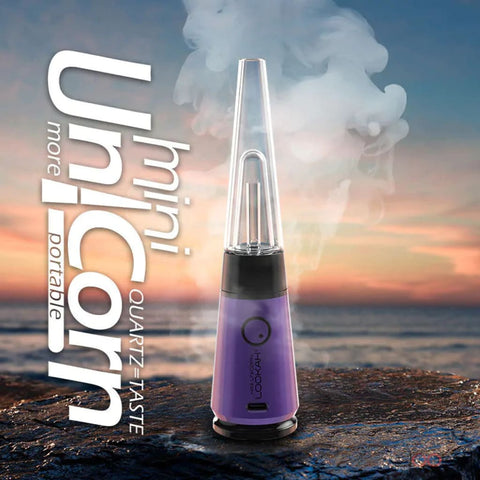 Lookah
Lookah Unicorn Mini Electric Rig
The Lookah Unicorn Mini Electric Rig is one of the most portable electric dab rigs available today. 
Lookah
This mini e-rig has a compact design and sits comfortably in your hand. It comes with two 710 threaded coils, and the built-in 1900mAh battery packs a punch. It can do up to 100 heat cycles from a single charge making it the best electric dab rig for traveling.
Like the first-generation Unicorn, the Unicorn mini uses powerful magnets to hold the glass over the battery unit. Though it's easy to lift the glass bubbler off for access to the 710 atomizers when loading the device, the top stays firmly in place when in use.
In addition, the battery base has a hidden dab tool that slides elegantly away when not needed. A single button allows you to turn the device on and off, adjust the temperature, and vape.
The button has a light behind it indicating the mode and voltage settings, of which it has three. 
Low 3.5V (green)
Med 3.7 (blue)
High 3.9 (white)
Coming with two coils, you'll get plenty of use right out of the box, and with Lookah's three new  710 thread coils, you can choose from ones to preserve flavor, create bigger vapor clouds, or conserve your wax.
Utilizing USB type C charging, this mini wax rig is quicker to recharge, with the 1900mAh battery going from zero to full in under 2.5hours. However, you can even charge it from a power bank or USB port on your car for easier charging when away from the mains.
This E-rig is the best travel companion for water-filtered rips. Take it to the park, a hike in the countryside or wherever your next adventure takes you, and elevate the experience.
How to use the Unicorn Mini
1) Turn on the device by pressing the power button 5 times in quick succession.
2) The Unicorn mini will enter a preheat cycle when you switch it on. After this, you can press the power button 2 times in quick succession to change the voltage setting. Low/Medium/ High.
3) Remove the top and put a little water in the bubbler, (the water should be just above the percolation holes)
4) Use a dab tool to place a small amount of wax into the top of the 710 atomizing coil.
5) Replace the top part of the Unicorn.
6) Press and hold the button for up to 10 seconds at a time and inhale to vape
7) Once you have finished vaping you can turn off the Mini Unicorn by pressing the power button 5 times.
Includes:
1 Lookah Unicorn Mini Device (Base & Glass)
1 Silicone Stopper Mouthpiece 
2 710 Quartz Coils (1 Pre-Installed)
1 Cleaning Tool
1 Dab Tool
1 Instruction Manual