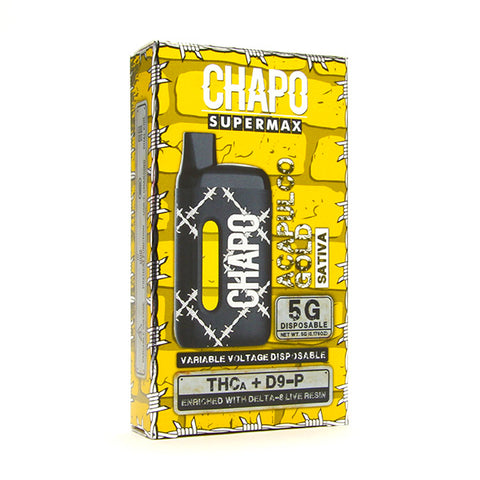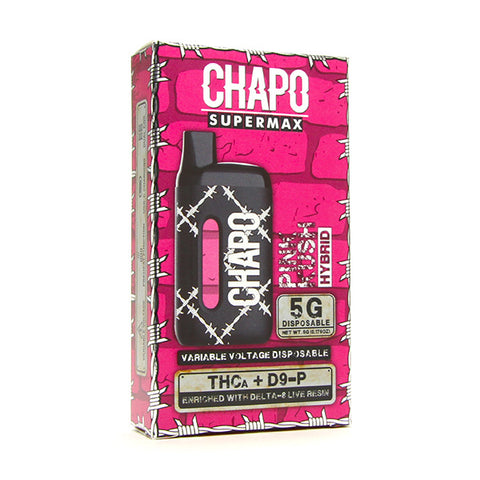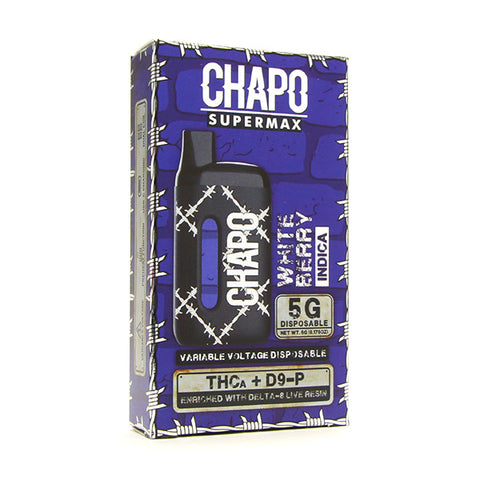 Extrax
Chapo Supermax 5G THCA + D9-P Live Resin Disposable 1 ct
Chapo Supermax 5G Disposable
Introducing the Chapo Supermax 5Gram THCA + D9-P, Enriched with Delta-8 Live Resin Disposable!
The classy 5g disposables combine state-of-the-art technology with premium ingredients to give you a next-level high. Explore the universe of THCa + D9-Pperfectly enriched with  Delta 8 Live Resin. You are given a symphony of flavors and sensations with each inhale, making every moment feel exciting.

These disposables are your ticket to a trip of flavor, whether you're an experienced vape aficionado or a novice looking for a gentle introduction.
These disposables are available in 3 different flavor profiles. Hybrid, indica, and sativa options are available so you can get the exact effect you desire.
CHAPO EXTRAX DISPOSABLE STRAINS
Acapulco Gold (Sativa)
Pink Kush (Hybrid)
White Berry (Indica)
Product Features
3 grams of distillate infused with THC-B, THC-P, PHC, and delta-10 THC
Enriched with Delta 8 Live Resin
Variable Voltage
Preheat Function
USB-C Charging
Dual Coil
Warning: Must be 21 years of age. Do not use this product while pregnant or breastfeeding.