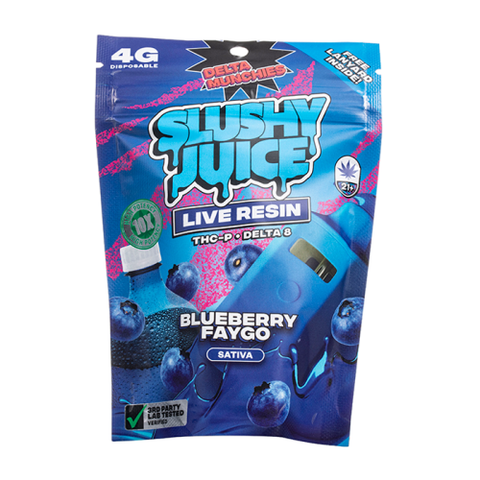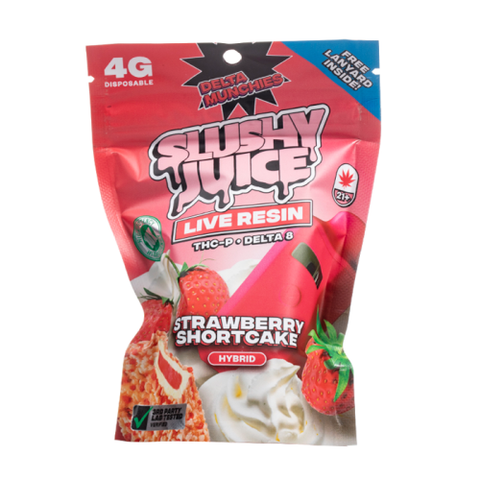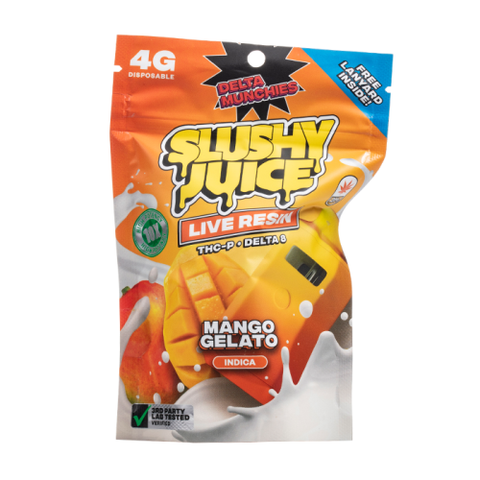 Delta Munchies
Delta Munchies Slushy Juice THC-P + D8 Live Resin 4G Disposable 1 ct
Slushy Juice Live Resin 4G Disposable
Enjoy the thrill as you slurp a special mixture of live resin and THC-P derived from fresh frozen plants. This product delivers a genuine cannabis experience with higher effects, including smoother hits and robust flavors.
Features

4 grams
Sourced from Fresh Frozen
10X High Potency
4Gram Tank
Third Party Lab Tested
Rechargeable Battery
How to Use
To use the slushy juice THC-P vape, power on the device by pressing the power button five times. Once on you may preheat the device.  You may also select a heat setting for your desired vapor strength. Once the desired heat setting is established, you may hold the button to hit the device from the top and enjoy the sweet effects of your Slushy Juice THC-P Vape!
POWER ON
Press the power button 5 times to power on the device.
PRE-HEAT MODE
Press the power button 2 times to pre-heat the device. A light will turn and stay on during pre-heat and will turn off once device is pre-heated.
LOW HEAT SETTING
Once on press the power button 3 times. The device will blink once to indicate the low heat setting.
HIGH HEAT SETTING
While on the low heat setting, press the power button 3 more times. The device will blink twice to indicate the high heat setting.
Warning: Must be 21 years of age. Do not use this product while operating machinery, pregnant or breastfeeding.